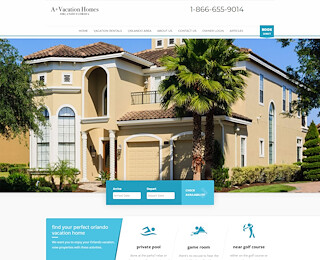 Maximize your trip to Florida by cutting back on road travel. This can easily be done by booking Orlando vacation homes. A+ Vacation Homes offers house rentals that are just a short drive from popular attractions in Orlando. Aside from saving money on transportation fees, you can also cut back on accommodation. Vacation rentals offer flexible payments to suit your budget.
Predictions say that it is potentially a good year for real estate this year. Because of this, new properties are sprouting left and right, tempting people to purchase their own property as a means of investment. Among these include vacation homes, which are being promoted especially in towns and tourist cities.
Orlando vacation homes
are one of these being offered in the market today. Orlando vacation homes are very popular because Orlando is a known tourist destination for families.
Should you invest in a vacation home?
The shirt answer is yes. The great thing about vacation homes is that they essentially pay for themselves when you rent them out. Do not just buy any property, though. In choosing Orlando vacation homes, you must keep in mind the following:
Check to ensure that the location is good. In tourist cities, make sure that the vacation home is strategically situated close to tourist attractions. Either pick a home that is within walking distance from the sites or choose a home that has a nearby shuttle service so you and your renters can get to your destination faster.
Make sure that you only dealing with reputable developers. There are tons of property developers available, it is always important to make sure that you are only dealing with a trusted and reputable one. Check for the company's track record and also if there are existing customer testimonials to strengthen their reputation.
Compare prices. Competition is fierce in the real estate industry, which is an advantage for you. With this you can compare prices easily and look at quality homes.
Check the amenities. It is best to pick a vacation home that already has complete amenities because they usually fetch higher rental rates.
Why you should buy in Orlando
Orlando is dubbed as Hollywood East because it has some of the major studios in the world, including Universal Studios and Disney/MGM Studios. What's more, Orlando is also home to fun theme parks for the whole family, including the Walt Disney World Resort and SeaWorld Orlando. Orlando is also home to some of the famous sports teams including Orlando Magic, Orlando Seals, and Orlando Thunder, among others.
Because of its bustling tourist industry, Orlando is definitely one of the well-loved cities to visit when in Florida. Thousands of people visit it every year, giving you a lot of potential renters. More and more people now realize that renting a hotel room can get too expensive, not to mention difficult at the peak of tourist season. They usually opt to rent a vacation home instead.
Excellent homes
Find only the best Orlando vacation homes at A+ Vacation Homes.
Orlando vacation homes offered by A+ Vacation Homes are strategically located just 15 minutes from major tourist attractions. Complimentary shuttle services are also offered. All rooms are equipped with the basic amenities plus a great view away from the crowd and traffic.
Orlando Vacation Homes
Related Posts
We welcome your comments!