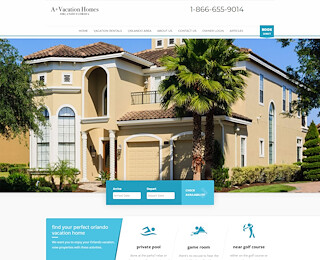 When planning a trip to Florida, compare accommodation prices and check which one is the closest to the attractions you want to visit. One of the safest and most convenient types of accommodation is a vacation rental home in Orlando FL. A+ Vacation Homes offer well-located and secured house rentals with flexible terms. Villas with exclusive access to swimming pools and other recreation areas are also available.
If you're aiming for a different type of holiday experience this year, better considering booking a
vacation rental home in Orlando FL
. Such arrangements offer flexibility and a great deal of privacy for you and your family. For most of the guests in this area, getting a rental home is much more practical as it allows everyone in the group to stay under one roof. You can get a rental property for the price of a good hotel room. The only difference is that a vacation home will have three to five rooms while a hotel room can only accommodate four people in such a cramped space.
Finding the perfect rental
To get started in your search for a good vacation rental home in Orlando FL, you will want to visit rental sites and vacation forums on the Internet. They can offer you sufficient information as well as valuable tips on how to make the most of your vacation home. If you're pretty new at this, you will also want to make a couple of preparations for your first rental home.
Because you're probably going to get a wide array of choices online, you will need to narrow down your list to the properties that will cater to your specific needs. You need to specify exactly what you want and base your choices from your list. For instance, if you're bringing a baby along, you will want to have a home that has baby gates for the stairs. It's also wise to inquire about the amenities such as outdoor barbecue grills, swimming pools, heating system and the like.
When interviewing with a local agent, you will also need to find out what you have to bring along with you. A typical vacation rental home in Orlando, FL will come equipped with the basics such as beddings, kitchen utensils, flatware, etc. However, it still pays to know about such details so you can come prepared.
Trust only the experts
Getting all the information you need is important in making the right choice for your vacation rental home in Orlando FL. A+ Vacation Homes has an online site that provides valuable information on how to make the most of your rental property. Policies are posted to give you a heads up on the various extra services that the company provides. A+ Vacation Homes is committed to making sure that your stay in any of their properties would be worthwhile. For more information, explore this website or call our toll free number at 1-866-785-2352 today.
Orlando Home Rent
Related Posts
We welcome your comments!