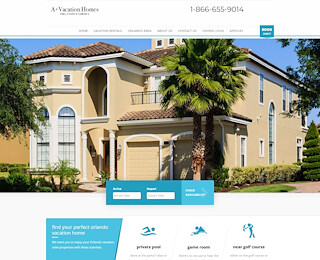 A+ Vacation Homes has a range of Florida vacation homes Orlando for every family and group that would like to save money and enjoy privacy during their holiday. Many of our properties are near Orlando's top attractions like SeaWorld, Universal Studios, and Disney World. Book today for the best deals.
Renting a holiday home can be more economical than staying at a  hotel or resort in Orlando. Florida vacation homes Orlando properties range from standalone houses to condominium units, town homes, and luxury villas with multiple bedrooms and baths to suit the number of friends and family members you have. These choices may differ in the level of privacy they can offer as well as the type of facilities they have. If you still can't decide, here are some tips that can help you out.
Town homes and condominiums are attached homes that great small families and large groups of friends or company departments who are on vacation in Orlando. While everyone can have their own rooms, facilities like the swimming pool, games room, and jacuzzi are shared with other tenants. The upside is, they are more economical if you are staying for only a few days.
For longer stays, a standalone vacation home or luxury villa is ideal. A+ Vacation Homes has a range of three to seven-bedroom houses that are ready for booking. These properties differ in terms of prices and amenities, but they all have the comforts you can find in your own home such as full kitchen, living room, bathrooms, a master bedroom, and a patio. Some have spacious backyards where children can play or you and your family or friends can enjoy a barbecue. Unlike town homes and condos, these homes provide a more exclusive atmosphere. You won't have to share facilities with strangers.
Learn more about Florida vacation homes Orlando with the help of the professional realtors and professional property managers in A+ Vacation Homes. We offer a wide range of rental villas and condo units that can sleep as many as 16 people. Some of our villas also have their own private swimming pool, jacuzzi, and game room. Let our professional holiday rental property management specialists help you select the best home and give you more information about it. All our properties are within five to 15 minutes from Disney World.
Florida Vacation Homes Orlando