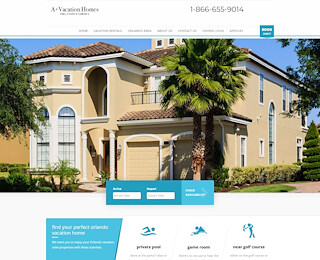 A Florida vacation rental home can have a swimming pool, games room, high speed internet access, and barbecue facilities. Tell us what you need and you're sure to find it here in A+ Vacation Homes. We have a range of accommodation for every budget and requirement, for a perfect vacation.
Simple pleasures
Sometimes, you just want it simple. You want a nice warm bath to soothe your tired muscles before you sleep. You want a soft bed to sleep in. You want a quiet breakfast before you go exploring again. But you can't really have this if there's about six or seven of you cramped in a hotel room that would comfortably fit three or four. Not to mention if you have children with you. Children get agitated so easily that they add to the stress you are already feeling. With a Florida vacation rental home, you can have all that plus more.
Vacation rental homes
Vacation rental homes are normally available in different property types condominium units, stand-alones, etc. Whatever property type you choose however, there's sure to be one that will fit your needs and your budget. Aside from accommodations (read: fits everybody comfortably), vacation rental homes also sometimes come with either swimming pool access or a private swimming pool of its own. If you're interested in hitting the beach, there are also a lot of vacation rental homes available by the beach. Perfect for tourists, vacation rental homes are normally situated around tourist spots for convenience.
Go villa!
If you're looking for a Florida vacation rental home, you might be interested in opting for a vacation villa. Villas are not just simply beautiful but they also give you the privacy you need to make your vacation truly relaxing. Apart from that, villas from A+ Vacation Homes are all strategically located near Florida's tourist spots for your convenience. Best for large groups and with even your own swimming pool to boot, staying in a villa only costs under $1000 for 10 people. That's big, big savings right there. If you're not interested in a villa, don't worry! A+ Vacation Homes also has a wide variety of other property types you can choose from, all located 5 to 15 minutes away from Disney World.
Florida Vacation Rental Home