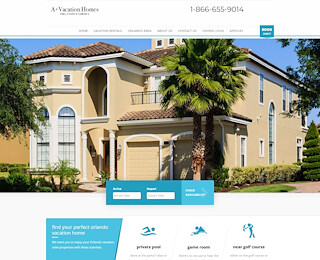 We have Kissimmee Florida vacation rentals suitable for all budgets. Our vacation rentals are extremely varied from condo units to homes with up to seven bedrooms, and standalone vacation homes in prime locations, just minutes from Disney World, Universal, and SeaWorld. Book a vacation home in A+ Vacation Homes now.
Disney World is one of the reasons why people flock to Orlando with their family and friends, making it one of the world's busiest tourist destinations. Taking your entire family to Orlando can be expensive because you need to buy the tickets required for the theme park, pay for gas for your car or book plane tickets, and stay at a good quality accommodation. Fortunately, there are ways that you can save money on a Disney holiday. One is by ditching hotel accommodation altogether and booking Kissimmee Florida vacation rentals instead.
Hotel rooms within the Disney World resort tend to be pricier, but if you want to stay near the theme park, you can find a vacation rental home in Kissimmee. Its proximity to Disney World makes it a popular accommodation option. There are affordable choices in Kissimmee vacation homes, too, and many real estate specialists like the ones here in A+ Vacation Homes are willing to help you find the best holiday home for your needs and budget.
Kissimmee Florida vacation rentals vary from luxury condos to villas. Holiday homes have their own swimming pool where you can enjoy privacy during leisure time with your family. Other homes also have their own games and entertainment rooms, as well as jacuzzis where you can relax after a busy day in Disney World. A+ Vacation homes can offer multiple bedroom properties ranging from three to seven bedrooms.
View our choices in this website to help you get started in finding the right vacation rental home in Kissimmee. All our properties are offered in reasonable prices, and they are easily accessible from Disney World. Enjoy the luxurious Florida lifestyle by staying in your own vacation rental villa with the help of our Florida vacation rental property management team. Our specialists can also help you buy a vacation home or rent out your existing holiday villa in Orlando. Learn more about our services in this website or call 1-866-655-9014.
Kissimmee Florida Vacation Rentals