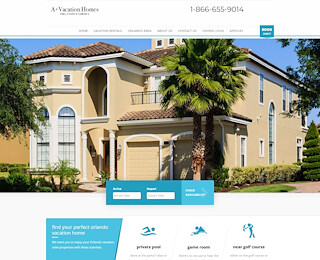 A Kissimmee vacation home puts you and your family closer to Disney World's top theme parks like EPCOT, Hollywood Studios, and Magic Kingdom. You can book one here in A+ Vacation Homes. Choose from our wide range of houses, condo units, and luxury villas to rent, and book securely online.
Florida is a big state and within it are some of the most sought-after destinations that vacationers from all over the country and even around the world frequent. Orlando is a popular tourist spot, with all its recreational spots, theme parks and all other exciting offerings that leave people wanting for more. Some of the best areas to stay at while visiting town include the areas South and North of Disney. Here, you will find an abundance of restaurants, family attractions, recreational attractions, great shopping destinations, and even golf courses. If your heart is set on one of these areas, you can find the best rentals located North and South of Disney World here at A+ Vacation Homes. We also offer great Kissimmee vacation home offers along with rentals in prime locations around Florida.
The Universal Area is also worth a try, though prices of rentals here are not that competitive since only a few establishments can be found here. Downtown Orlando is also a great place to stay at, especially if you don't want to waste time traveling from one attraction to the next. If SeaWorld is your choice of theme park, then your rental must be somewhere near International Drive. A+ Vacation Homes gives you access to great rental choices, whether you want a downtown rental or a good place to stay near the International Drive and Convention Center Area, the Universal Area, or even the nearby Kissimmee area. We specialize in luxury Kissimmee vacation home rentals as well as rentals across Orlando.
Kissimmee Vacation Home