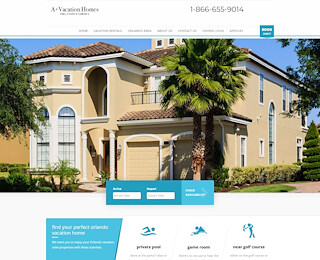 Maximize your travel money during your trip to Florida by booking luxury rental homes Orlando. You can find the vacation home of your dreams that is sure to suit your budget. A+ Vacation Homes offers secure and well-located houses. With the extra money you save for accommodation, you can use it on other travel and recreation fees instead.
A holiday in Orlando is not complete without visiting one of its theme parks. Sea World, Universal Studios, Amway Center, and Disney World are some of its top attractions, and some of them have their own resorts and hotels in their premises, too. If you do not intend to stay at their resorts and hotels, your next choices are luxury rental homes Orlando, which are strategically located five to 15 minutes from those tourist spots. Staying in luxury rental home can be less expensive than staying at a hotel, too, especially if you are spending several days or weeks with your family.
A rental home can have three to seven bedrooms, which can accommodate any number of individuals. The properties available from A+ Vacation Homes are spacious, with three-bedroom homes suitable for six people and seven-bedroom homes that can accommodate up to 16 people. Staying in a holiday rental home can be more economical if you are spending a vacation with a large group of friends or if you simply have a big family, and everyone can enjoy their privacy. A holiday home can also have its own entertainment and leisure facilities. Consider booking one with a swimming pool or a jacuzzi, or a games room where you and your loved ones can bond and relax after an exciting day at the theme park.
A+ Vacation Homes is the best place to find luxury rental homes Orlando that are within a short drive to Disney World and other tourist attractions in the area. Check out our three to seven bedroom homes with a swimming pool, game room, or jacuzzi. We specialize in offering value prices in all our vacation homes, so you and your family can enjoy the Florida lifestyle without overspending. It is easy to choose your holiday home. Simply view our online selection, book here, and we'll take care of the rest. You may also call 1-866-655-9014 for more information.
Luxury Rental Homes Orlando