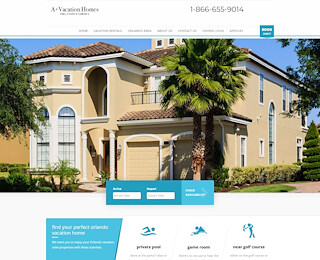 Don't have time to meet with a property manager to check out Orlando FL home rentals? Visit A+ Vacation Homes Instead and book everything right on our website. It's very easy. Just look at our selection of properties, decide what fits your needs and budget, and click book. We'll take care of the rest for you. Our site is secure, so your personal data is protected.
You don't have to spend too much on an Orlando holiday especially if you are taking your entire family with you. There are ways that you can cut back on expenses in accommodation and tickets and still have more than extra to spend on souvenirs, food, and shopping. Consider Orlando Fl home rentals instead of staying in hotels or resorts, which tend to be pricier. Hotels tend to charge you based on room rates and the number of days you are staying, and this might be very expensive if you are paying for two or more rooms. A vacation home rental can be more economical if you are planning to stay for several days or weeks with your family. You can even provide your loved ones with their own rooms in the vacation home for more privacy.
Next, consider theme park and attraction tickets in advance, along with your accommodation.  The prices are higher during peak season, so booking ahead makes sense if you want to enjoy cheaper prices and better deals. Booking in advance is also recommended if you are renting a car during your Orlando holiday.
Finally, all these can be possible if you do your research. For Orlando Fl home rentals, consider reputable real estate specialists like A+ Vacation Homes to help you out. Our vacation homes are about five to 15 minutes by car from Disney World, shopping, centers, and restaurants. Choose from three to seven bedroom homes, which can accommodate a minimum of six to a maximum of 16 individuals. A+ Vacation Homes is made up of vacation rental property specialists and realtors who can assist you in booking your ideal holiday rental home in Orlando. Get started in this website, or contact us by calling 1-866-655-9014.
Orlando Fl Home Rentals