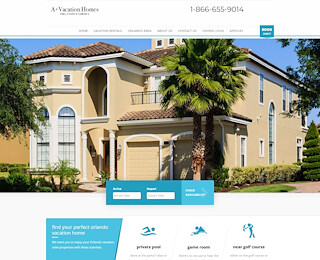 A+ Vacation Homes has years of experience in managing Orlando Florida rental properties, so turn to us if you want more bookings for your vacation home. List your property with us and we will make sure that more tourists see it. Make money from your holiday home! Contact us today for details.
Orlando is one of the most popular tourist destinations in America because of Walt Disney World. Aside from the theme park, millions of people come by to enjoy shopping, live entertainment, dining, golfing, and other activities. Many hotels are strategically located in the vicinity of these tourist hubs, but if you truly want to enjoy a quiet and stress-free holiday with your family, consider staying in one of the Orlando Florida rental properties.
A vacation rental property can offer the space, privacy, and convenience you and your family need at no extra cost, unlike a hotel. There are properties available in Orlando, at least five to 15 minutes by car from Disney World and the other theme parks, but there are also others in Kissimmee and Davenport.
There are three-bedroom homes that can accommodate up to six people, while homes that have seven bedrooms can accommodate a maximum of 16 people, making them perfect for large families. You can also give each your family members their own room in a rental home for more privacy. These homes already have a kitchen, living room, dining room, patio, and leisure or entertainment amenities for your convenience.
Many Orlando Florida rental properties are available here in A+ Vacation Homes. You can book online for the most budget-friendly luxury vacation rental home in Orlando or Kissimmee with the help of our vacation rental property specialists. A+ Vacation Homes is a reputable company that lets you stay in a private condo, a standalone home, or a first class villa complete with amenities like a games room, swimming pool, and barbecue facilities. Let our professionals help you find a home that is within five to 15 minutes from Disney World. Book today or browse for properties first, or you may contact us at 321-766-6455 for more information.
Orlando Florida Rental Properties