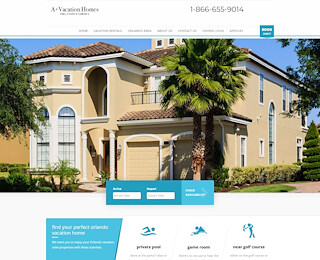 A+ Vacation Homes has four-bedroom Orlando Florida rental vacation homes that are suitable for eight to ten persons. Choose from our luxury properties in Kissimmee near Disney World, or in Davenport. Many of them have a swimming pool and a game room that you and your family can use exclusively.
Staying in a vacation home in Florida is often a better idea than staying in a luxury hotel, especially if you want to enjoy more privacy and exclusivity with your family or friends. There are many Orlando Florida rental vacation homes available, but before booking one, expert real estate and vacation home rental specialists recommend looking at these factors to determine if a particular property is really good for your needs and budget:
Location
The location can make a difference. Do you intend to visit Disney World? If yes, then look for a rental vacation home near the theme park. Ask specific questions about the location of your Orlando Florida rental vacation home and determine how many minutes it will take for you to drive to and from Orlando's tourist attractions. Also, determine where the house is situated. Is it in a private gated community, a busy street, or near a beach? Ask about the nearby activities you can enjoy with your family and surroundings.
Configurations
Ask about the number of people that a house can accommodate. Check how big the bedrooms are and determine how many bathrooms are there. These configurations can help you determine whether the house is suitable or unsuitable for your family and the number of people in it. Likewise, find out about the amenities and their availability, such as a swimming pool, laundry room, games room, etc. You should also find out how big the garage is, especially if you are staying with a large group.
Additional Fees
Ask about surcharges and other fees involved. Some vacation rental homes may require cleaning fees. You should also ask if you need to bring your own cleaning products if you want to do the cleaning yourself.
Feel free to ask these questions when browsing our selection of Orlando Florida rental vacation homes. A+ Vacation Homes can be reached easily when you call 1-866-655-9014 or 321-766-6455. We offer accommodation for every budget and we let you stay anywhere you want, whether it's in Orlando near Disney World, or in Kissimmee. We have three to seven-bedroom homes complete with all the amenities you could ever want for a convenient stay. Talk to the vacation rental home specialists of A+ Vacation Homes to learn more, or browse this website for more information about our properties.
Orlando Florida Rental Vacation Homes