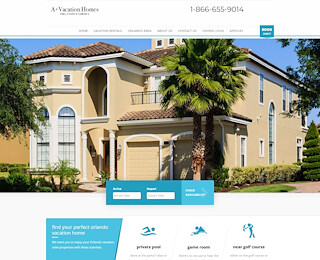 An Orlando Florida vacation home rental is one of the best modes of accommodation there is. Instead of opting for fixed-price hotel rooms, you can choose a villa or vacation house that can suit your needs as well as your budget. Book through A+ Vacation Homes for your trip. You are sure to find properties located close to the attractions you would like to visit in Florida.
There are many options when it comes to accommodation in Orlando, including the bustling Disney World resorts and hotels. But if you want more privacy and better value for your money, an Orlando Florida vacation home rental is a better solution. Here are tips you can use to find the best vacation rental home.
1.    Before booking, you need to consult with the people whom you are staying with, whether they are your family or your friends. That way, you can determine whether the property is indeed the best for everyone's needs. Check if you and your companions can indeed benefit from using your own kitchen, having your own swimming pool, games room, or if you will even have time to use those entertainment facilities after spending a day in Disney World.
2.    Check the costs. Sometimes, a hotel room can be cheaper if you are staying for only a few days. If you are staying for five or more days, however, a vacation rental home can be a cheaper option. Still, compare the cost of a rental home to the costs of a hotel room to see which one is really the more economical choice for you.
3.    Book from an Orlando-based company. Nothing beats booking an Orlando Florida vacation home rental from a company that is familiar with Orlando and its real estate industry. That way, all questions about the location, surroundings, and nearby attractions from the property can easily be answered. Choose companies like A+ Vacation Homes for more peace of mind.
A+ Vacation Homes make it easier for you to book a holiday home in Orlando. Simply use this website to browse properties and make an online booking, and we'll take care of the other formalities for you. We specialize in renting out many luxury properties in Orlando, Florida, and they are all conveniently located near prime destinations like Universal Studios, Sea World, and Disney World. Feel free to browse this website to learn more, or talk to one of our property managers by calling 1-866-655-9014.
Orlando Florida Vacation Home Rental