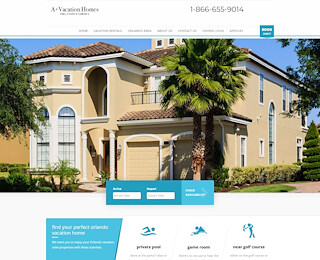 Orlando Florida vacation home rentals are easier to book through A+ Vacation Homes. Instead of getting a small room at a hotel, you can enjoy a villa that is more private and spacious. Some even come with game rooms and swimming pools. The best part of getting home rentals is the easy trip to Florida tourist spots. Disneyland is just a short ride!
Orlando Florida vacation home rentals are ideal if you want to enjoy a more convenient and exclusive luxury vacation in Disney World without staying in a cramped hotel room with your family. With a vacation home rental, you can also have your own swimming pool and entertainment amenities and enjoy them at your own leisure. A vacation home rental in Orlando, Florida may also cost less than what you would have to pay for hotel accommodation especially if you are staying for over a week.
Making reservations online is easy. You simply need to determine your arrival and departure dates and indicate the number of rooms you need. However, there are important things you must consider before you finalize your booking:
•    Location. Make sure that the property is close to Disney World so you can easily drive or commute there. The ideal distance of a vacation rental property from tourist attractions is at least five to 15 minutes by car. Also, find out where the property is, because it could be in a busy street or a gated community. These factors can also help you decide whether the property is best for you or not.
•    Size of the bedrooms and bathrooms. Many property managers and luxury vacation rental specialists post pictures of the house and amenities, but these may not include actual pictures of the rooms. Contact these specialists and ask about the sizes of the rooms and the number of bathrooms in the house. That way, you can tell whether the house is indeed spacious for your family or not.
You can easily contact our property managers and vacation rental specialists here in A+ Vacation Homes if you want to find more specific information about the property you want to rent. Our Orlando Florida vacation home rentals include the closest homes to Disney World, and they range from three to seven-bedroom properties to private condo units and luxury villas. Choose A+ Vacation Homes for a stress-free way to book your ideal vacation home. Contact us at 1-866-655-9014 or browse this website for additional information.
Orlando Florida Vacation Home Rentals