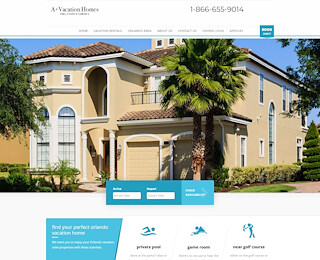 To better enjoy your vacation, book rental units from A+ Vacation Homes. Our Orlando Florida vacation rental houses are within easy reach of popular attractions. You can also save money with our flexible terms—something you can't do is you choose to book hotel rooms. With your extra money, you can enjoy more recreational activities in Florida, or maybe even stay longer.
When booking an Orlando Florida vacation rental property, many people overlook the importance of making arrangements ahead of time. While some property specialists offer solutions for last-minute bookings, it is still advisable to book in advance so you can obtain the best prices, better deals, and the best property where you and your family can live during your vacation in Orlando.
One of the major reasons for an early booking is lower prices. Plan your vacation ahead of time and book a vacation rental property even before peak season starts. Doing this can also reduce your stress when it comes to buying tickets and budgeting, and you will have less to worry about regarding where to stay. Booking ahead of time also gives you the chance to browse for more available properties, so you can reserve the best one that is big enough and well-equipped for your needs. You can conduct additional research and find out more about the location and surroundings of your ideal vacation rental property, and you won't have to settle for the only remaining property available if you book in the last minute.
You can get better deals when you book a few months ahead of your arrival date, especially if you want to visit most of Orlando, Florida's top attractions like Sea World, Disney World, and Universal Studios. Get started here in A+ Vacation Homes so you can be assisted by some of Orlando FL's best vacation rental property specialists.
A+ Vacation Homes specializes in providing a wide range of luxurious Orlando Florida vacation rental villas, standalone properties, and condo units in value prices. Our professional property management team can also help you in your booking. Simply browse for properties today and book the one you want, and we'll do the rest for you. Choose homes with a swimming pool or a games room, or go for a property with both facilities on-site. Learn more by exploring this website or call us at 1-866-655-9014.
Orlando Florida Vacation Rental