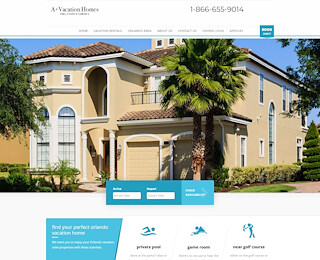 Looking for an Orlando home rental? Enjoy your vacation in a private house or villa while staying in Orlando. A+ Vacation Homes assures security and convenience. Most home rentals are a short distance from popular tourist sports of Florida. Get a home away from home during your trip. There are plenty of fully furnished houses to choose from.
Renting out your Orlando property can be a good idea if you want extra income and if you are okay with other families using your second home as their accommodation during a holiday in Disney World. If you think that you do not have what it takes to be a property owner, or you simply do not have time to advertise your Orlando home rental, there are other solutions you can consider to rent out your property at no extra cost or risk to you. One is turning to a property management company specializing renting out vacation homes in Orlando, Florida. Before you sign up for a property management service, here are some things you should consider:
•    Calculate the expenses. Determine the total cost for maintenance, mortgage payments, repairs, utilities, yard work, and other professional services, which you may need for the upkeep of your property. Consider getting insurance for your property, too.
•    Estimate the rental price. Don't just add the cost of ownership when coming up with the rental price because that won't be enough. Do your research and ask around for prevailing rates from other properties. Make an assessment of the price range of similar properties in your area.
•    Make a comparison on the rent you can obtain with the costs. Experts recommend having two statements for profit-and-loss. Prepare a list of things that could go wrong and another list that contains the best things that can happen when you rent out your property. This way, you can determine if renting out your property is indeed the best course of action for you.
Talk to the property management specialists from A+ Vacation Homes. We specialize in Orlando home rental at value prices. We make sure that our Florida vacation homes are near prime destinations like Disney World. If you think your property has what it takes to be a rental home, get in touch with A+ Vacation Homes by filling out a form in this website or by calling 1-866-655-9014 or 321-766-6455. We can ensure a stress-free property management service, so turn to us for assistance.
Orlando Home Rental