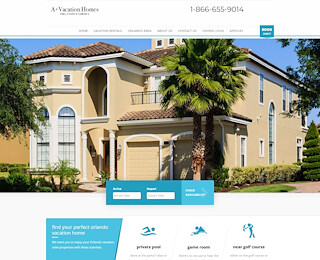 Need affordable Orlando home vacation rentals? Book through A+ Vacation Homes, a leading resource for well-appointed home rentals. Homes offered are well furnished and feature spacious rooms. They are also very secure and very close to popular attractions in Florida. Hotels can get quite expensive and crowded but a home rental can give you the privacy that you need at the price that you can afford.
Plenty of choices are available for Orlando home vacation rentals and it is always easy and fast to book online. Pictures and prices are provided in the websites of property management companies, which make it easier for you to find out more about the house that you want. However, some people make the mistake of overlooking some of the crucial aspects that could make or break the convenience of staying in a vacation home rental. One of these is location.
Apart from property's physical aspects and value, you need to find out more about its location. Ask questions about the vicinity and surrounding neighborhood of the vacation rental home to determine if it is really ideal for your needs. If you are visiting Orlando for its theme parks, make sure that the house is just five to 15 minutes by car from Disney World and Universal Studios. The location can also make a difference if it is close to a busy street, a park, shopping center, and dining establishments. It also makes sense to ask if the house is in a bustling tourist hub, a gated community, or a secluded location.
All these factors can be crucial in achieving a convenient and memorable vacation in a holiday rental home. Don't be embarrassed to ask for the specifics from a property management specialist here in A+ Vacation Homes. Whether you contact us through this website or by calling 1-866-655-9014, we are ready to answer all your inquiries about our Orlando home vacation rentals. A+ Vacation Homes specializes in property management services in Orlando, and we have a wide range of Florida vacation rentals near prime destinations like Disney World. Most of our properties have a swimming pool and other amenities that matter for that luxury vacation you are dreaming of. Contact us today or learn more about our services from this website.
Orlando Home Vacation Rentals