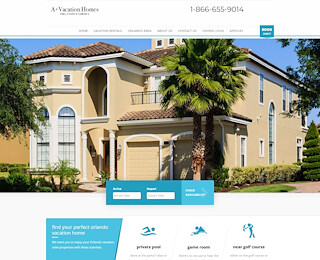 A+ Vacation Homes has Orlando homes for rent weekly and they are more affordable for huge groups than when you stay in a hotel. Many of our vacation homes have internet access and other facilities that you can use free, like a swimming pool, a game room, and a kitchen.
Vacation homes make more sense for larger groups, families, and those who want to spend their holiday in Orlando for a week or more. These homes have all the amenities you could want or need during your stay at no extra cost, and they are usually more economical than when you stay at a hotel where you get charged for the number of days you stay in a room. Nowadays, there is a wider selection of Orlando homes for rent weekly, which are cheaper if you are staying for seven days or more. Just make sure that the property satisfies the following:
•    It is near or easily accessible to Orlando's hot spots like the Amway Center, Universal Studios, Disney World, and Sea World, as well as to shopping centers and eating establishments.
•    The rates are comparatively lower than what you'll pay for at a hotel.
Don't forget to check for other fees, which might be included in the weekly rent. These include charges when using internet access, the telephone, and heating system. Also, determine which amenities are available for you to use so you can determine if you need to bring or buy additional supplies for cooking, bathing, laundry, and cleaning.
Talk to a property management specialist about these things before renting a the home for a week, so you can have a better understanding of the terms and conditions involved in vacation home rentals. You can also ask about the  A+ Vacation Homes offers Orlando homes for rent weekly, ranging from two to seven-bedroom homes, luxury villas, standalone properties, and upscale condo units, all strategically located near the theme parks, shopping establishments, and dining hubs. Most of our properties are within five to 15 minutes from Disney World so you and your family can conveniently travel to the theme park and have a comfortable place to return to after an exciting day. A+ Vacation Homes specializes in helping property owners rent out their vacation homes, too. Get in touch with us today by calling 321-766-6455 or 1-866-655-9014.  
Orlando Homes For Rent Weekly