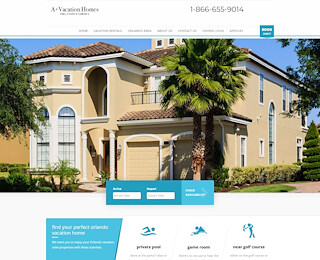 Enjoy your vacation with a home away from home. A+ Vacation Homes offers Orlando rental homes with pool. This is especially handy for travellers going on vacation with their families. Aside from swimming pools, some homes also have games rooms and offer access to club houses. Rental houses are very spacious and offer flexible payment terms, unlike hotels.
Ever since Disney became a popular destination in Orlando, accommodation options for families, friends, couples, and individuals who would like to spend their holiday in the so-called 'happiest place on earth' have also grown in number. Some of the popular choices include Orlando rental homes with pool because they offer better value for the money. In fact, they are often cheaper than a hotel suite in the long run. They are also more private, providing bedrooms for everyone. Of course, you and your kids can also use the swimming pool at no extra cost.
The swimming pools in most hotels have limited hours, which can be a hassle if you are coming in late or would like to swim any time you want. You also need to share the swimming pool with other guests in the hotel, and you have to be extra alert to make sure that your children are safe from strangers and that your personal belongings o not get lost when you leave them unattended. Orlando rental homes with pool can reduce your worries and concerns over these matters. You can use the swimming pool whether it is early in the morning or late at night, and you can easily watch over your belongings and your children.
Renting a vacation home in Orlando can be more economical than staying in a hotel room because of fixed weekly rates. For example, the price of an Orlando rental home with a swimming pool for a week's stay can be equivalent to the expenses of a two-night or one-night stay in a hotel suite. You can do a comparison yourself by looking at our rental homes here in A+ Vacation Homes and the rates of your favorite hotel in Orlando.
A+ Vacation Homes is your one-stop source of luxury rental homes in Orlando. Our properties allow you to enjoy the high class Florida lifestyle during a holiday in Disney World. Stay in a luxurious three- to seven-bedroom rental home with a swimming pool and other useful and fun facilities, which you and your family can enjoy. Get in touch with our professional team of vacation rental property managers to get started. You may call 1-866-655-9014, or contact us through this website.
Orlando Rental Homes With Pool