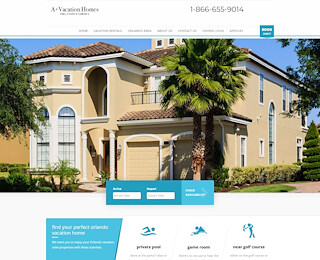 It is easy to book Orlando rental properties here in A+ Vacation Homes. Whether you are planning ahead or booking the last minute, our property management experts and rental specialists can make arrangements. Simply fill out our online form and we will take care of the rest for you.
Orlando is a well-known tourist destination because of its exciting theme parks, shopping venues, and dining hubs, with Disney World being the most visited attraction in central Florida. Since then, there have been resorts, hotels, and other types of lodging, which have emerged throughout the years. Recently, Orlando rental properties are becoming popular alternatives to expensive resorts and hotels.
Security and privacy are the main reasons why you and your family might want to stay in an Orlando rental property instead of a hotel. The weekly rate for most properties is almost the same as a single or a two-day stay at a luxury hotel, too, which means you can save cash. The best rental properties are near Orlando's top attractions, too.
Kissimmee has an abundance of Orlando rental properties. The selection of homes include three to seven-bedroom properties, which can sleep six up to 16 people. Many of these homes have their own swimming pool and other fun amenities like a games room, too. Of course, all of these homes have a fully equipped kitchen, dining room, patio, and a living room where you and your family can enjoy quality time without any interruptions or without paying extra.
Check out our rental properties here in A+ Vacation Homes. Our selection includes homes that are at least five to 15 minutes by car from Disney World and other attractions in Orlando. A+ Vacation Homes lets you browse for properties online any time. Book online and we'll handle the rest. You may also call 1-866-655-9014 for more information or to reserve a property. For more questions, you may get in touch with our property management team by filling out the contact form in this website.
Orlando Rental Properties