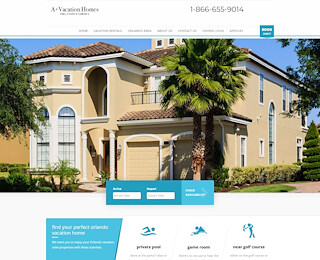 A+ Vacation Homes has an extremely varied selection in Orlando rental property, so you're sure to find the best vacation home to stay in without compromising your budget, the location, and your family's needs. We can provide extras for you like cribs, wheelchairs, high chairs, and a gas barbecue, too.
It is important to choose the right accommodation for your family before your trip. The usual choices include hotels, resorts, condo units, and apartments, but you can also to stay in an Orlando rental property. Rentals are very popular with those who are looking for more value and convenience. If you want to stay in a rental home, consider the following tips:
1.    Make sure it is close to Disney World and most of Orlando's top attractions. The best Orlando rental properties are strategically located at least five to 15 minutes by car from tourist hubs. Kissimmee is one of the ideal locations for a rental property.
2.    Compare the rates. Go online and check out the websites like A+ Vacation Homes to compare the prices of the vacation homes with one another until you find the best one that can fit your budget. You can also compare the expenses when staying in a rental property versus the costs of staying at a hotel room for a week.
3.    Check the number of rooms. A three-bedroom property can sleep at many as six people, while a seven-bedroom home can accommodate up to 16 people. You may also choose a rental home where each of your family members can have their own room, and the rates will be cheaper than getting your family a hotel room of their own.
4.    Check the facilities. Rental homes have fully-equipped kitchens, dining rooms, and living rooms, but check if there are additional facilities like a swimming pool, internet access patio, barbecue grills, hot tub, and a games room. These could make an Orlando rental property more economical than a hotel where you might need to pay more just to use those facilities.
Security, value, privacy, and convenience are the main reasons for staying in a rental property. Make sure you experience those benefits yourself by staying in one of the luxury rental homes from A+ Vacation Homes. We specialize in high-end rental villas and standalone houses for groups and families alike. You can book for a rental property directly in this website or call 1-866-655-9014. Start browsing for properties today or talk to our property management team for more information.
Orlando Rental Property