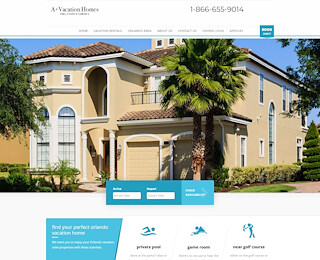 If you have an Orlando vacation home rental available, have it managed by A+ Vacation Homes. You are sure to get a steady stream of customers inquiring about and booking your home. Renting out your home is a great income generator. You will have enough money to cover your mortgage, plus extra. Talk to us about property management now.
An
Orlando vacation home rental
offers the luxury of living in a home away from your real home. It promises a certain degree of privacy and peace that most visitors are craving for when on holiday. A lot of people opt to rent a vacation home over getting a hotel room because of the comfort that the former offers. Visitors to Orlando usually consist of whole families with small children who are looking forward to touring the city's theme parks and attractions. Children need a lot of space for them to play around. A hotel room will not be able to provide that especially since the whole building is full of breakable and accident-prone furnishings and décor that is not exactly suitable for energetic kids.
Turn your home into a rental
If you're planning on turning your second home into an Orlando vacation home rental, it's important to equip it with all the necessary facilities that a visiting family or group will need. Your choice of furnishing will greatly depend on how you marketed your property. If it's supposed to be a luxury home, you will want to be true to your word and equip your home with high-end amenities such as a king-size bed, big-screen HDTV, satellite or premium cable, an espresso machine, Jacuzzi, a pool, air conditioning and high speed Internet service. You need to make sure that you're giving your guests their money's worth when setting up your home.
If your Orlando vacation home rental is intended for a family with simple accommodation needs, you will want to furnish the home with all the basics that you yourself will need for you to be able to live comfortably in the property. Make sure to provide more than enough of specific facilities such as glasses, flatware and kitchen utensils. For dining sets, it's important to prepare for double the typical size of the group that you're expecting to accommodate in the property.
Professional property management
Your Orlando vacation home rental becomes more marketable and with just the right kind of amenities added to it. To make sure that you effectively attract guests into your home, you will want to work with a real estate agency that can promote your property to a large clientele. A+ Vacation Homes can get regular bookings for your rental place. With its diverse network of contacts and quality promotional services, you're sure to get a prospective guest inquiring about your home before you know it. To get started, visit the Property Management page on this website.
Orlando Vacation Home Rental