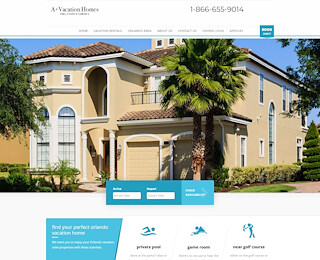 The popularity of rental homes isn't just a traveling fad. More and more tourists are opting for vacation rentals for its convenience and affordability. A good place to find an Orlando vacation rental is A+ Vacation Homes. This online resource assures excellent security on properties. What's more, rental homes and vacation villas are minutes from fun recreation areas of Orlando.
If you are planning to spend a few days and nights at a pricey Orlando hotel, wave aloha to a lot of your money. On the same budget, you could lease an Orlando vacation rental home, and stay for a few more days and nights. Yes, it can be fun to stay as a group in a fancy hotel. It's even more fun when you and your friends share an Orlando vacation rental home.
At A+ Vacation Homes, we are all about providing you and your group with remarkable destination properties. We offer every size accommodation, from super cozy condominiums to elaborately laid out seven bedroom villas in the Emerald Island resort colony. If you need a short-term Orlando vacation rental, A+ Vacation Homes is the management company to call. If you plan to visit the Kissimmee-Orlando area, you're gonna find all sorts of cool things to see and do here. You could stay a week and still not see even half of the natural and manmade attractions in the central Florida region. If you can manage two weeks at your Orlando vacation rental, you are sure to have plenty of things to do and plenty of places to go.
Of course, everyone knows that Kissimmee, Florida is the home of the world-famous Disney World and EPCOT center theme parks. Sea World is located in adjacent Orlando, Florida. Those parks aside, there are still TONS of cool things to do in this part of Florida. Not all of them cost a fortune to visit, either. You've probably seen Snow White's castle, but have you seen or even heard of King Solomon's Castle? Internationally known sculptor and artist Howard Solomon has spent the better part of his life designing and constructing this modern wonder of the world. Solomon may well be one of the world's first true conservationists, because he never throws anything away. Not as long as it might be turned into art or architecture. Some call Howard Solomon's art peculiar. Many call it beautiful. Whatever it is, it is something to behold. At only ten bucks adult admission, King Solomon's Castle is one of Orlando's finest tourism values. Plan to come hungry and chow down on the best double-crusted white chicken pot pie you ever had at Solomon's Boat In the Moat floating restaurant. Credit cards are not accepted. King Solomon's Castle is closed July, August and September, but if you can work around that, you and your group are in for a real one-of-a-kind treat.
Browse our color pages to find an A+ Orlando vacation rental that appeals to you. Check availability for your preferred vacation dates. It's easy and secure to make reservations from our website, or you may call A+ Vacation Homes at 1-866-655-9014 or 321-766-6455.
Orlando Vacation Rental