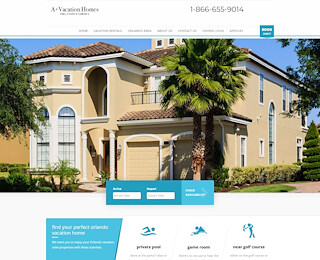 Find an Orlando vacation villa rental for your trip without having to leave your home. The online resource A+ Vacation Homes offers different types of house rentals for travelers and tourists. You can find villas within the vicinity of your favorite Orlando attractions as well as houses situated in exclusive rental communities. Rental homes all offer spacious rooms and some even have private pools.
Planning a trip to Disney World? One of the first things you'll need is a place to stay. Accommodation is as much a part of your vacation as the restaurants and theme parks. You have a lot of options, from budget inns to luxury hotels and villas. But as many visitors have learned, it's hard to find good accommodation at a good price. But all that has changed, thanks to the luxury vacation homes we offer at aplusvacationhomes.com. By luxury, we mean the best in quality and service, your own private pool, Jacuzzi, and game room, instead of those generic rooms and public pools in most Disney hotels.
Stay anywhere you want
We have units located right inside Disney World, as well as in Orlando and Kissimmee just 15 minutes from the Disney World. Our homes are also close to other Florida tourist destinations, so it's perfect for those who want to see what Florida has to offer.
Accommodations for all budgets
Our accommodations are extremely varied?we have condo unit rentals,stand-alone vacation homes, and units ranging from three to seven rooms. You can also add extras to better serve your needs, such as wheelchairs, high chairs, cribs, and even a gas barbecue rental! All these come at very friendly prices, too. Accommodation for 10 people costs less than $1000 the same price you'd pay for two people at a luxury hotel with all the same amenities. By staying in one of our villas, you get more freedom, privacy, and quality service than other luxury hotels, at only a fraction of the price.
Book online
Bookingis very easy?just browse through our site to see our wide range ofaccommodation options, choose a unit and location, and fill out ouronline form. Our site is completely secured, so you don't have to worryabout protecting your personal data and credit card information. Simplysubmit your booking form and we'll take care of the rest. For moreinformation please call us at 1-866-785-2352 or 321-939-7945.
Orlando Vacation Villa Rental