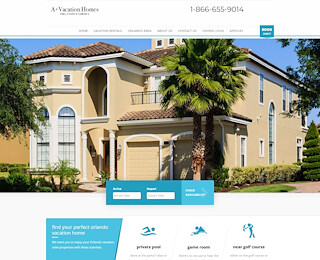 Planning your vacation to Florida? Stay close to popular attractions by booking Orlando rental homes with pool. A+ Vacation Homes is a leading resource for rental homes. You can choose from luxury villas or simple vacation houses. All rental homes offered are secure. To suit your vacation needs, some houses come with exclusive amenities ranging from games rooms to swimming pools.
Orlando is a big place offering plenty of opportunities to explore exciting places. If you keep in mind some things while planning your trip, you can enjoy this thriving tourist center even more. First, don't forget to make your hotel or lodging arrangements way ahead of time. This way, you can have the best deals and get the best rooms/units before everyone else does. If you prefer rental homes in Orlando, it might be a great idea to rent one that is a little off the beaten path, but close enough to your favorite attractions. This way, you will be far from the chaos and noises of the theme parks. Book with us at A+ Vacation Homes to get the best rental locations in Orlando and Kissimmee. We offer small to large lodging options ideal for solo travelers, families, and big groups who want to explore Orlando.
Don't forget to stop by Florida's Visitor Center in search of special coupons and pamphlets, which can be very useful when visiting the top sites especially in Orlando. If you don't want to pay ridiculously high prices for snacks and refreshments in amusement parks, do bring your own snacks, but don't pass on some of the great international restaurants and must try dining halls. You will have an even more pleasant time in the city if you choose rental homes in Orlando that are well placed to explore not only the most talked about theme parks but some hidden city treasures, like the ones we offer here at A+ Vacation Homes.
Rental Homes In Orlando