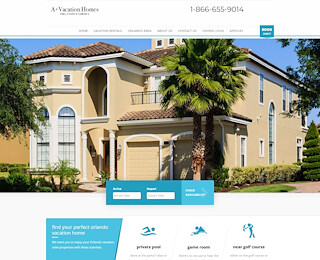 Stay in luxurious rental estates away from the chaos, yet within easy access of your favorite tour destinations in Florida. A+ Vacation Homes features rental properties in Orlando that offer exclusive facilities, excellent security, and most of all, easy access to tourist attractions, convenience stores, restaurants, and other amenities you might need during your tour.
Disney World alone can fill your entire vacation in Orlando. The park is home to several themed attractions that will sure tickle everyone's fancy, whether you are into fairytales and fantasies, water-based activities, unique entertainment, or nature. Among the most visited attractions in Disney Land are Animal Kingdom and Magic Kingdom, both of which have their own exciting attractions to offer. When visiting Orlando, make sure everything is in order, down to the very last detail of your trip. One of the first things you should secure is accommodation in one of the many rental properties in Orlando. If you want to get the best deal on a family or group rental, book with us here at A+ Vacation Homes.
Disney's Magic Kingdom is best known for its sought after attractions like the Haunted Mansion and Pirates of the Caribbean, and while many other amusements can be found elsewhere in the park, many are still drawn to the beauty of Disney's own animal safari. Animal Kingdom spans more than 500 acres and is home to an excess of 1700 different animals belonging to over 250 distinct species. You will definitely enjoy the Kilimanjaro Safari and African Savannah. While there, don't forget to sneak a peek of the famous Tree of Life. After a long day of exploring Orlando's theme park, you will want to go home to a relaxing haven where you can recharge for the activities of the next day. A+ Vacation Homes gives you access to the best rental properties in Orlando and elsewhere in Florida.
Rental Properties In Orlando