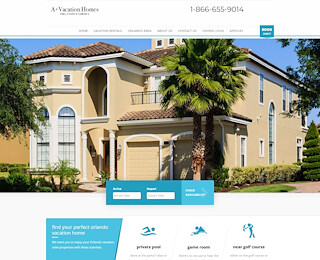 Planning your summer vacation? Book rental vacation homes Orlando as early as now to get great locations and have access to amenities. List down your requirements for the rental home you want, such as number of rooms and the location. You can then check A+ Vacation Homes for rental units that will suit your budget. Orlando tourist attractions are a short drive from rental vacation houses.
Renting a vacation home can save you money, give you more privacy, and provide more exclusivity for you and your family. Having your own space and the comforts you can expect from your own household are also among the reasons why rental vacation homes Orlando are better than hotels. Even if you have the rental to yourself, though, good behavior still needs to be observed. First of all, the rental home is not yours, so you need do your part in taking care of the property.
When renting a vacation home, reputable companies like A+ Vacation Homes will suggest the number of occupants that the property can handle. There are reasons for this, and these are security, comfort, and savings. A three-bedroom home can only sleep up to six individuals, so if there are more people in your group, you might want to consider a rental home with more rooms. Capacity limits are also based on city ordinances, so be sure to follow them to avoid getting in trouble with the law.
Ask for permission before bringing pets or if you want to conduct a party in the rental home. If these are not allowed, then consider looking for another rental home that allows them. Also, inform the property manager if you are arriving later or earlier than scheduled.
If you have children, make sure that they are supervised and not jumping or playing around the furniture because they might get into an accident or destroy some things. If something breaks, let the property manager or owner know about it instead of hiding it.
Check out our rental vacation homes Orlando here in A+ Vacation Homes. We have three to seven-bedroom luxury homes ready to be occupied near Disney World. Most of our properties are only a short drive from the theme park and many other Orlando attractions. Many of them also have a swimming pool. Book for a house online or call our toll-free hotline at 1-866-655-9014.
Rental Vacation Homes Orlando