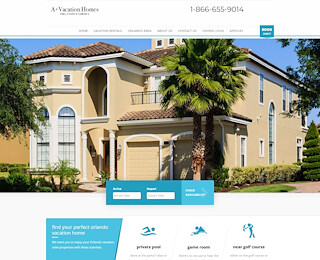 Our six-bedroom vacation homes in Orlando Florida are perfect for large families and groups that would like a spacious, luxurious, and well-appointed accommodation during a holiday. Most homes can accommodate up to 14 persons. Check them out at A+ Vacation Homes and book them securely and easily using our online booking form.
Finding
vacation homes in Orlando Florida
is easy, but finding the right property dealer can be daunting. Vacation homes in Orlando Florida are the perfect place to stay while in Florida because they are peaceful, private, and convenient for you and your family. There are tons of places to see in Orlando, so kick start your vacation and refer to this brief property guide for help.
The excitement of Orlando
Orlando is the 6th largest city in Florida, boasting of a population of more than 200,000. Orlando is easily one of the most visited tourist destinations in the country because it is home to famous attractions including the Walt Disney World Resort, Universal Studios, and SeaWorld Orlando. Every year, thousands of tourists flock to Orlando, families and couples alike, to enjoy the sights and sounds of the city.
Finding a hotel
Typically, tourists visiting Orlando look for or book a hotel room in advance. But did you know that there's a better alternative to crowded hotel rooms? That's right. Vacation homes in Orlando Florida are better because they provide you with the peace and quiet you definitely need when going on vacation. Apart from that, vacation homes are more spacious compared to crowded hotel rooms that become very packed come tourist season.
You might also find it hard to find a suitable hotel room that is within minutes from tourist destinations, especially if you are on a budget and don't have the money to stay in super expensive five-star hotels. But almost all vacation homes in Orlando Florida are situated strategically within minutes from major tourist attractions, so they are definitely great places to stay.
Quick tips
If you are on the lookout for the best vacation homes in Orlando, here are some things you have to look out for:
Choose a good location home. In Orlando, make sure that vacation homes are not located in the suburbs, which can make it hard for you to get to your destination fast. It is best to pick a home that is either just within walking distance from tourist attractions or pick a home that offers complimentary shuttle services.
Deal only with reputable developers. Pick a reliable property developer so you are guaranteed of quality service and total satisfaction.
Always compare prices. The best way to look for properties is to go online.
Check the amenities. Go for homes that at least have the basic amenities for a comfortable and convenient stay.
The best rental homes in Orlando
To get the best vacation homes in Orlando Florida, trust only A+ Vacation Homes. We offer rental homes perfectly situated just 15 minutes from the city's major tourist destinations. What's more, we also provide complimentary shuttle services to help you get to your destination faster. All homes are also fully furnished for a comfortable stay. For more details, explore this website.�
Vacation Homes In Orlando Florida