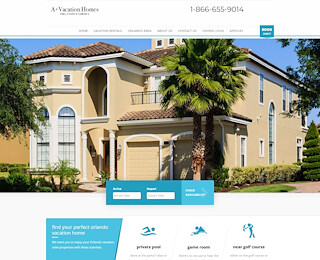 Stick to your budget and enjoy fantastic attractions in Florida during your vacation. Booking vacation homes Orlando is more affordable than you think. A+ Vacation Homes offers a wide variety of rental vacation units to suit your needs. Payment is also flexible. Aside from cutting back on accommodation expenses, you can also spend much less on transportation costs as most vacation homes are close to Orlando attractions.
At the time of this writing, it is the heart of winter and people all over America are thinking of visiting someplace warm and sunshiny. Florida is always a fine destination and central Florida is one of the nicest parts of this very nice state. The Kissimmee-Orlando area is home to all sorts of attractions, both natural and manmade. If you dream of strolling slowly along a sugar-white beach, you will find that just a short drive away. If your idea of fun is to spend a day or a week visiting Disney World, it's right here waiting for you. Sea World runs a sweet theme park here, complete with whales, sharks, dolphins, pelicans and penguins. Up for a taste of Hollywood? Universal Studios is in the neighborhood, too. Are you convinced to come to central Florida yet? Take a peek at A+ vacation homes in Orlando, and you're sure to be ready to pack your bags and get here.
We are A+ Vacation Homes and our sole reason for existence is to provide excellent short-term lease lodging for visitors to the Kissimmee-Orlando area. We are pleased to offer a splendid selection of vacation homes in Orlando and Kissimmee, Florida. We offer vacation homes in Orlando in all sizes, from cozy condominiums to spacious, seven-bedroom homes in the Emerald Island and Indian Creek resort communities. If you intend to come to central Florida for your honeymoon, one of our smaller properties will be of interest to you and your beloved. Traveling with the family? No problem. At A+ Vacation Homes, Orlando living is available for parties of practically any size. We can easily provide you with accommodation for two to sixteen people. Sorry, but pets are not allowed in our vacation homes in Orlando.
A+ vacation homes in Orlando make the perfect staging area for a day spent enjoying everything that central Florida has to offer. For the same money, you get a whole lot more time at our vacation homes in Orlando than you would at a comparable resort hotel. If you are intending to vacation with other couples, you will love that many of our vacation homes in Orlando have multiple master bedroom suites. Our vacation homes in Orlando come with private swimming pools that you may opt to heat for the duration of your stay. Most of our vacation homes have hot tubs, Jacuzzis or both. Some of our vacation homes have thrilling game rooms outfitted with things like pool tables, foosball tables and giant-screen color TVs. Check availability of your favorite vacation homes in Orlando right here on this website. Make your secure reservation online or give A+ a call at 1-866-655-9014 or 321-766-6455. We can't wait to hear from you!
Vacation Homes Orlando